Is your roof looking a little flat? It may be time to give it some attention.
Flat roofs on residential homes are more common than you may think. Typically, on older traditional homes, there are sections of the roof that may be flat. However, on modern, newer contemporary homes, we are seeing flat roofs are becoming popular and aesthetic.  
Flat roofs are a type of roof design that has a very low slope, often less than 10 degrees, which means it does not have a visible pitch like other roof designs. Flat roofs are commonly used on commercial buildings, but they can also be found on residential properties, mostly found over shed roof dormers, above porches, garages and balconies.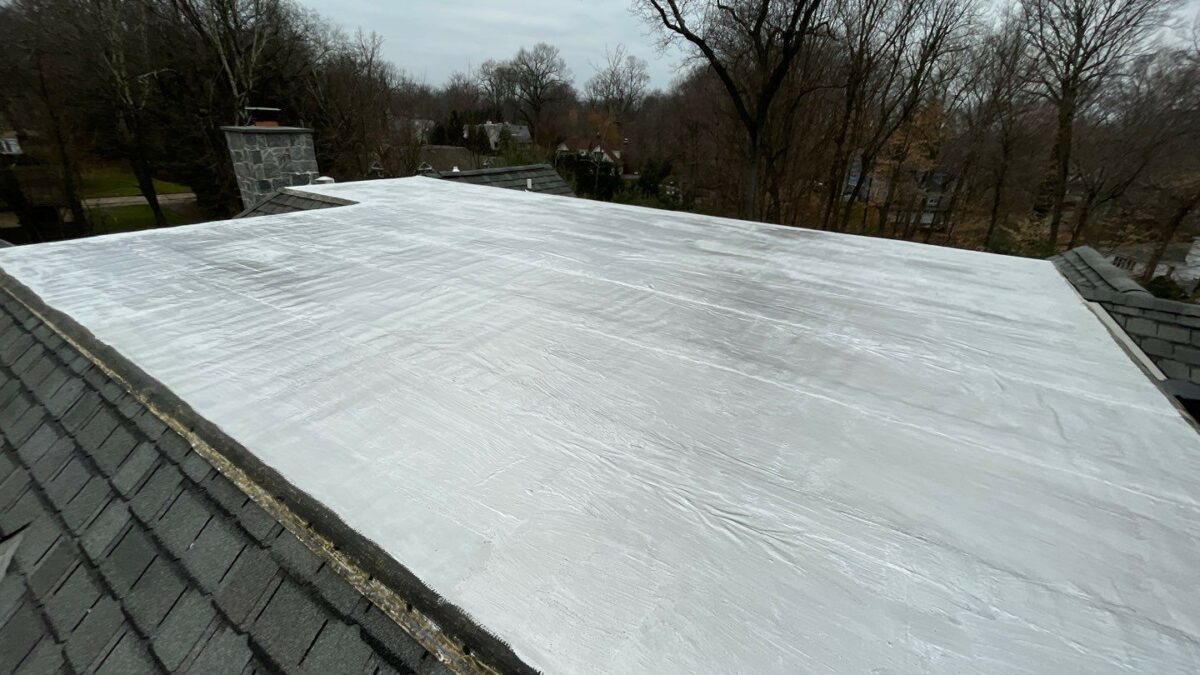 Flat roofing is not actually flat; it has a very low slope—between 1/4 to 1/2 inch per foot—so that it drains water.
These types of roofs have been around for centuries, and they've come a long way since their early days. Originally, they were made with simple materials such as thatch or mud. Today, flat roofs can be made with a wide range of materials including asphalt, metal, PVC, rubber, fiberglass and modified bitumen. No matter which material your flat roof is made of, it still requires proper installation and maintenance.
Different Types of Flat Roofs

Modified Bitumen "MOD", also known as Torch Down roofing- MOD roofing is our most common way to install flat, low slope roofs at Novalis Roofing & Siding. This process requires a multi-layered membrane that is made of asphalt and rubber; it is installed by heating the material with a torch to melt it onto the surface of the roof. Whether that be another single layer of roofing or a new fiberglass base sheet, this is the process we use most often.
Hot Mop- The process of installing a hot mop flat roof involves heating asphalt to a temperature where it can be easily applied and spread into a roofing membrane to create a waterproof seal. 
Built-Up Roofing (BUR) – This is a traditional flat roofing system that involves the use of multiple layers of roofing felt or fabric that are saturated with hot asphalt and layered with a top layer of gravel or mineral granules. 
Single-Ply Membrane Roofing – This is a roofing system that involves the use of a single layer of synthetic material, such as EPDM, PVC or TPO, that is mechanically fastened or adhered to the roof surface.  This system is ideal for large commercial and industrial applications.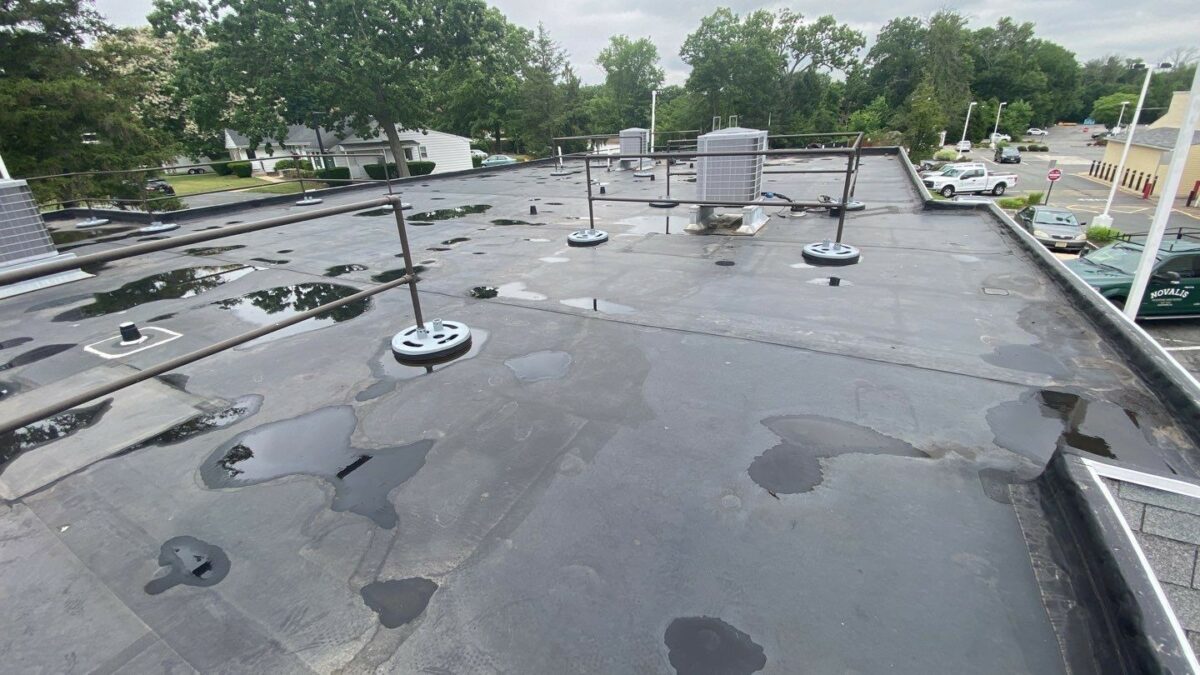 Fiberglass- Fiberglass roofing is a different type of application we offer. Fiberglass is made of multiple layers of fiberglass matting and resin, applied to create a waterproof membrane. Fiberglass is a highly durable material that can withstand a wide range of weather conditions, including high wind, heavy rain, and extreme temperatures. The cast-in-place seamless design of fiberglass roofing eliminates the need for seams or joints that are prone to leaks, making it easy to install and maintain. Novalis Roofing and Siding can turn your un-walkable flat roof into a beautiful balcony space!
Flat Roof Repair or Replacement
When it comes to replacing a flat roof, there are several signs that indicate it may be time to do so.  Here are some of the most common issues:  
Aging- The lifespan of a flat roof can vary depending on the materials used, but generally, they last between 10 and 20 years.  If your roof is approaching or exceeding this age, it may be time to consider a replacement.  Flat roofs can last around 20 years before experiencing aging. Repairs can extend the roof's life for a few years at most.
Leaks– Water leaking in through your ceiling indicates that moisture has found a way in through a damaged spot on your roof. If you act quickly in this situation, you may be able to simply repair the damaged and leaking spot. However, if leaking goes unchecked for an extended period of time, the roof can become severely moisture-damaged and require a full replacement.
Blistering and Cracking- Look out for blistering, bubbling, and cracking of the roof. If you notice the top coating of your flat roof looks like it's been damaged by the sun and/or high temperatures, exposing the undercoat, it's time to replace it.
Pooling Water- Flat roofs should be designed with a slight slope to ensure that water drains properly.  As your roof ages, it will warp and stop repelling water as effectively. This can cause water buildup, and these pools and puddles will only lead to more water damage, so it's best to replace your flat roof before this happens.
The Novalis Difference
Accurate Assessment – Our experienced and expert assessors have the knowledge and skills to determine whether a flat roof material is required or if shingles can be used when planning a roof project, each option has its own advantages and disadvantages that can impact the performance and lifespan of the roof.  The slope of the roof is an important factor to consider when choosing roofing materials.  Shingles require a slope greater than 2/12 pitch to be effective, anything under that requires a flat roof solution.   We find regular shingles installed on low slope roofs all the time.
Visual Appeal – Installing the right type of flat roof in the right location for aesthetic reasons can significantly impact the overall appearance of a building or home.  If the roof is low and visible, we will use a Black Granule surfaced roof to be more aesthetically pleasing. On the other hand, if the roof is on top of the house and not visible, we may choose a Smooth surface with a Fibered Aluminum Coating applied.  The coating is a durable, reflective, and waterproof coating that helps lower energy costs and adds another layer of protection to the roof that can be re-applied in the future to extend the service life of the roof.
Leading Edge – Securing the leading edge of a flat roof is one of the most important steps in the process.  This area is prone to water infiltration and wind uplift. We install a piece of Azek trim along the top of the fascia board to extend the roof out into the middle of the gutter below and give us the proper support to secure the leading edge.  This typically would include the installation of  a new gutter to ensure the water drains properly off your roof.
Critical Junction – The transition between an intersecting wall and the flat roof requires special attention during the installation process.  This junction is vulnerable to water infiltration and can be a major source of leaks and water damage if not installed correctly. We run the low-slope roofing material up the roof's slope or the intersecting wall to ensure no water will get in at this critical junction. Roof intersections are straightforward; when Installing new shingles into the existing roof, the walls can be more difficult. Neatly finishing this detail can be tricky; sometimes, we will install matching siding, while in some instances, we install a piece of Azek along the roof properly flashed behind the siding to finish off.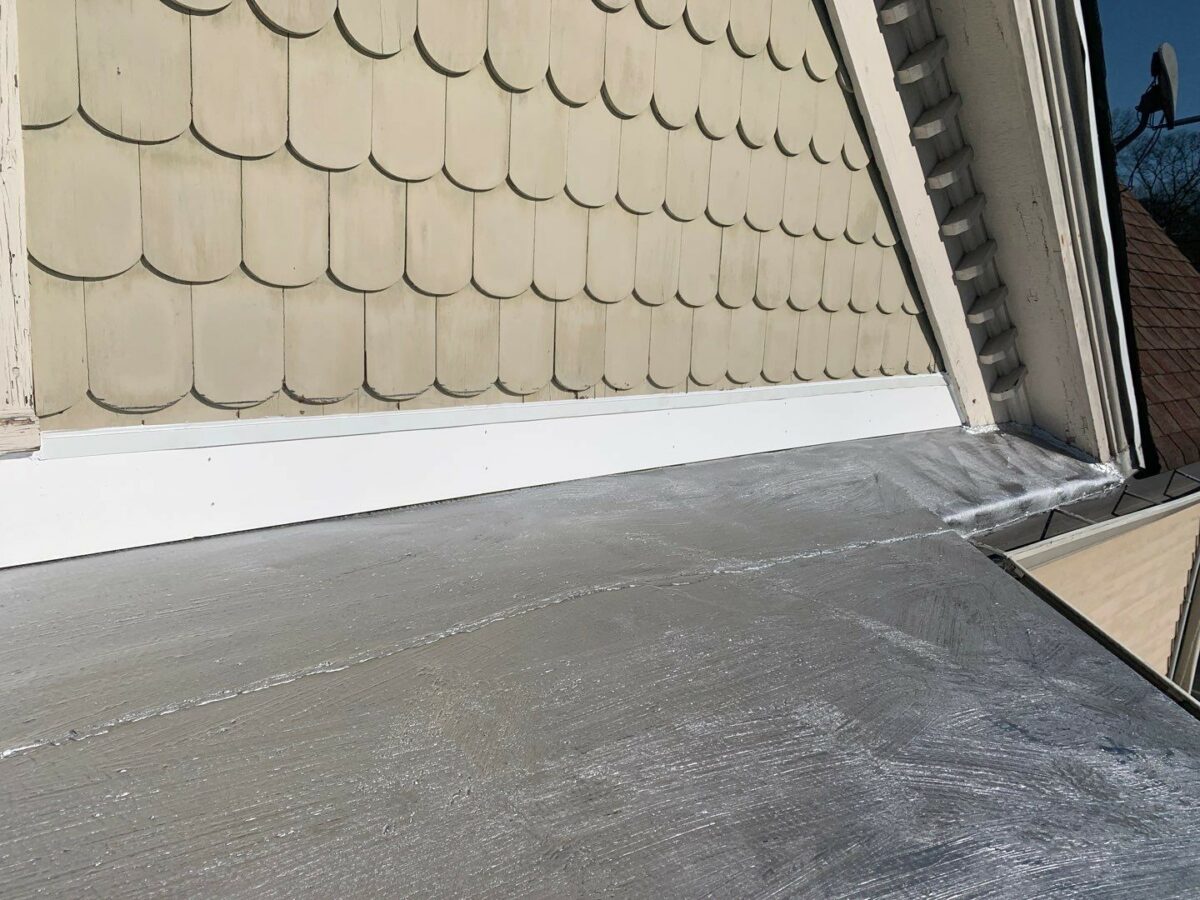 Durability – We specialize in permanent approaches to ensure that flat roofs are installed to last for the long term, with minimal maintenance and repairs required.  We use an additional layer of low slope roofing material over the "Gravel Stop" on the roof's rake edges. The gravel stop drip edge is not sealed with roof cement that would require regular maintenance; rather, we burn a strip of the roll material over the top to make a permanent seal.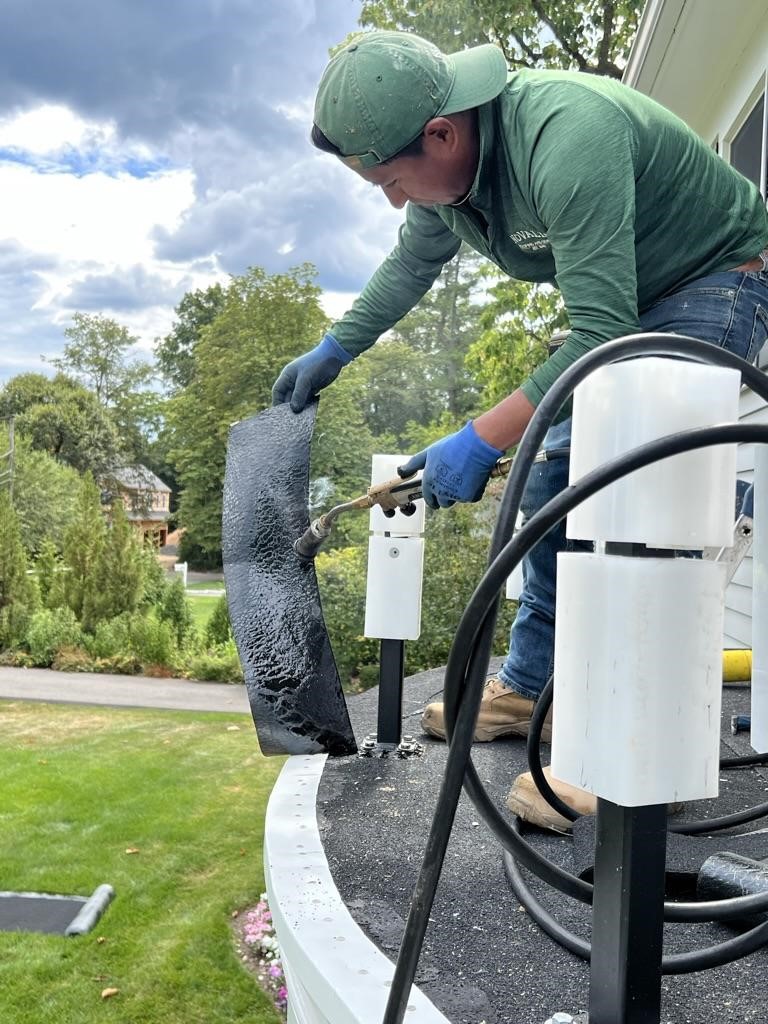 Skylights – There are many benefits to adding skylights to your roof, from increasing natural light, improving ventilation and increasing energy efficiency of your building or home.  Installing skylights on a flat roof can create potential entry points for water to infiltrate the roof.  We have the experience to properly install skylights in your flat roof and select the appropriate skylight designed for these applications.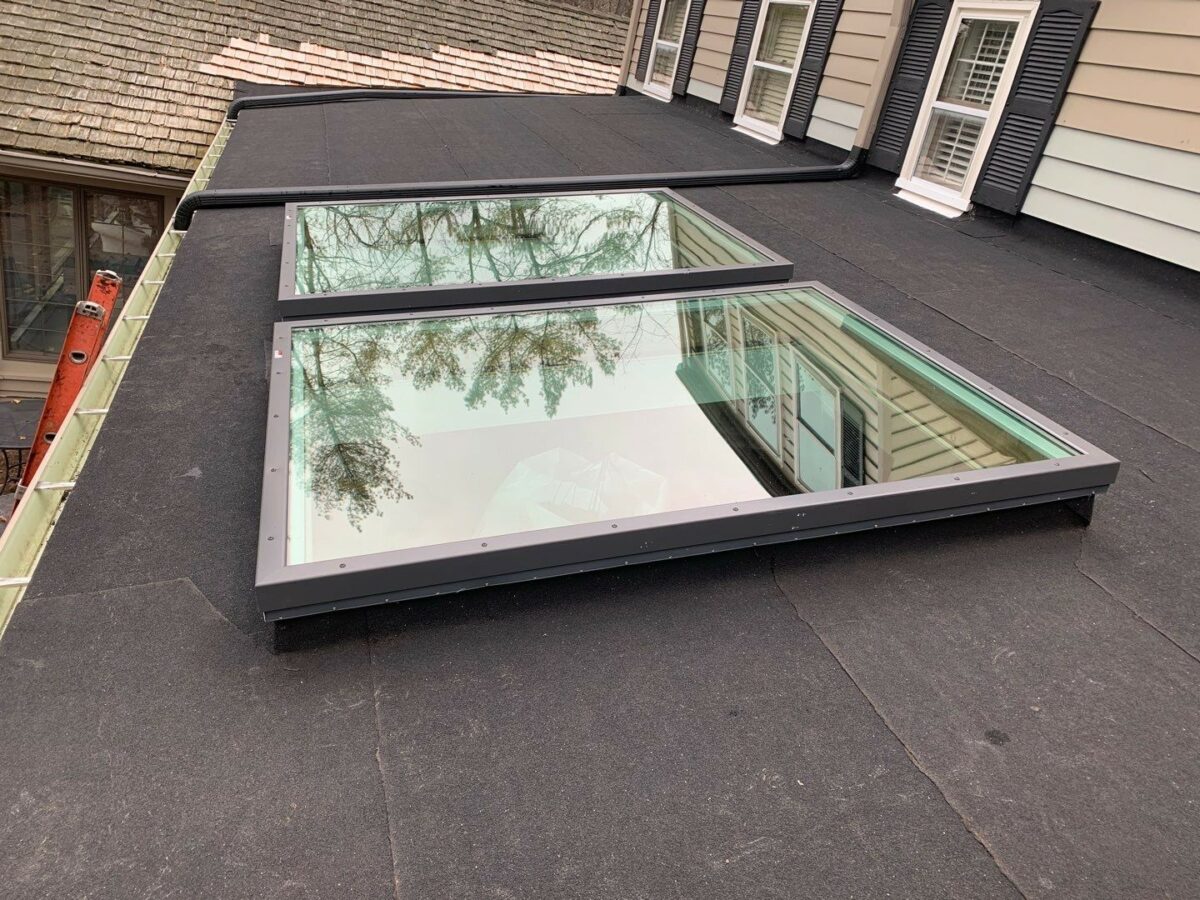 Flat roofs are a popular choice for many commercial and residential properties, but they do require some care and attention.  Regular maintenance and occasional replacement can help to prevent water damage, mold growth, and other problems.
Many other roofing contractors specialize in sloped or pitched roofs, having little experience working with flat and low-sloped roofs. Novalis Roofing and Siding experts have worked with different roofing systems since 1940. As a result, we have decades of experience installing, repairing, and replacing these various kinds of roofs; along with having specially trained crews who know how to handle them.