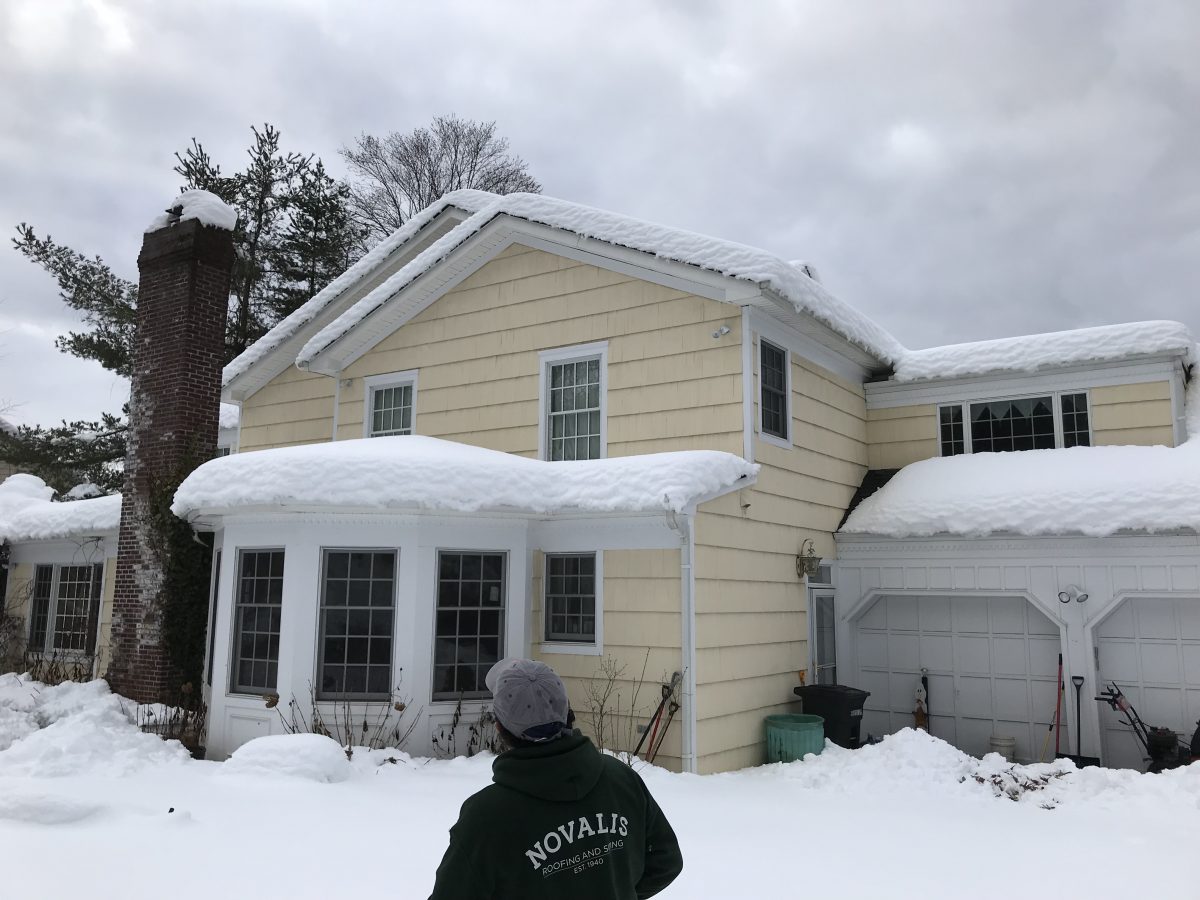 20 Feb
Common Winter Roof Issues
Having a functioning roof over your head is crucial, especially in the cold, wet winter months. There are a few roofing issues that are quite common in the winter. Understanding what causes these issues and what preventative measures to take, can help minimize the damage to your home. Here are four of the most common winter roofing issues to look out for.
Ice Dams
Ice dams can occur when snow melts on your roof and then begins to refreeze due to cold temperatures. Temperatures this winter have been inconsistent, as high as 60 degrees some days and as low as 20 degrees. This creates the perfect scenario for ice dams.
Studies show that ice dams rarely occur when the outside temperature is above 22 degrees. Keeping the attic temperature below 30 degrees can prevent dams from forming. This may sound simple in theory, but you will need a professional to assess your attic and its current insulation.
Tree Damage from Heavy Snow and Ice
Trees can be a problem in any season; however, they are especially problematic in the winter. As snow and ice build-up on trees, the branches get heavier and may begin to weigh on your roof. If the branches cannot handle the weight of the snow, they may even break off and land on your roof. While there is not much you can do to control mother nature, you can start by keeping overhanging limbs cut back. Having a relationship with a Tree Contractor and Roofing Professional will help when response time is critical.
Condensation
Not many people open windows when it's below freezing outside, which is why warm moist air from a shower needs to find somewhere to go. Unfortunately, that place may very well be the attic. Once that air hits the frozen roof deck, icicles will form.
Squirrels
Squirrels like to find a warm place to live in the winter, don't let it be your roof. When squirrels have worked there way into the attic, your first step should be getting them out. Once you have rid your attic from squirrels, you need to make sure they can't get back in. One option is to cut a clean hole in the space or cover over the hole that they made to get in with a one-way trap.  This allows the squirrels to work there way out but not get back in.  Once you are sure the squirrels are all out you can go ahead and make the repairs to keep them out for good.
Contact the Professionals
Are you experiencing any of these problems? Get your roof repaired and prevent future issues by contacting Novalis Roofing & Siding. Keep your home safe with a protective roof by calling 973-240-9074 or emailing us today!