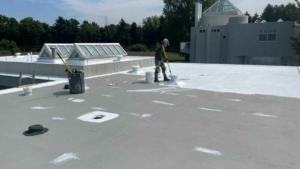 For this project, we used AcryLabs flat roofing system.
This Flat Roofing Project with AcryLabs Roofing System entails replacing and upgrading an existing flat roofs for a residence in Morristown, New Jersey. The AcryLabs Roofing System is a cutting-edge, high-performance roofing solution known for its durability, flexibility, and weather resistance. This system provides home owners with a long-lasting, cost-effective roofing solution that can withstand various environmental challenges.
Flat Roof System made to last
AcryLabs is a fluid applied, seamless and fully adhered membrane that is unaffected by UV degradation. The reflective white surface reduces the roof temperature thus reducing thermal movement. There are other benefits as well. AcryLabs roof systems reduce dependence on HVAC by lowering energy demand. This flat roofing system does not need to be replaced, only touched up once every 10 years.
AcryLabs systems are renewable and can be maintained for an indefinite period of time, making it one of the most cost effective systems available in today's market.